Regional MANRRS Conference Oct. 30-31 at MSU celebrates 30 years
In 1986, Dave Weatherspoon wanted to relieve the isolation that he and other minority students felt while studying agriculture and natural resources at Michigan State University (MSU).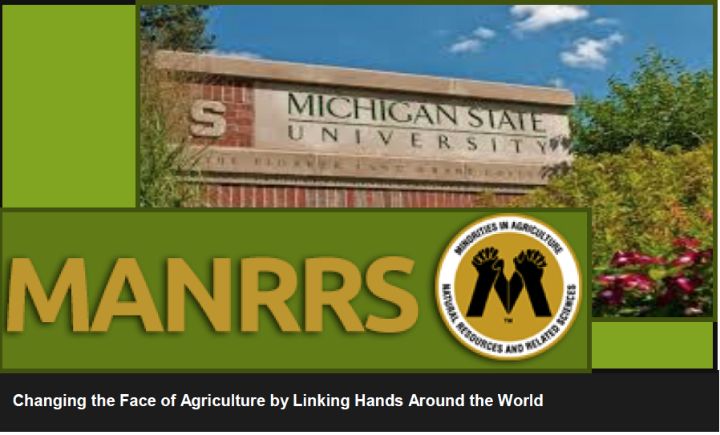 In 1986, Dave Weatherspoon wanted to relieve the isolation that he and other minority students felt while studying agriculture and natural resources at Michigan State University (MSU).
He was quoted in the State News as saying: "I want to set up a network system so that when I or anyone else goes into a university, the support will be there. The other goal is to increase awareness among minorities about opportunities in agriculture and natural resources."
Weatherspoon was talking about a student group that would get its start at MSU because of him and other students, and then would spread across the country. At that time, Weatherspoon was president of the newly formed Minorities in Agriculture and Natural Resources Association. The organization was renamed Minorities in Agriculture and Natural Resources and Related Sciences, or MANRRS. Now a professor in the Department of Agricultural, Food and Resource Economics, Weatherspoon serves as a mentor.
"Students felt isolated in agriculture and natural resources," Weatherspoon said. "They might be the only person who was different. It was a way for people to have a supportive network."
MANRRS is now a national student organization, with more than 1,500 members in 65 chapters at colleges and universities in 38 states. This month will see the MSU chapter of MANRRS play host to the Region V Conference.
The conference is set for Oct. 30-31 at the Marriott Hotel in East Lansing. This year's theme is "MANRRS: Growing the Next Generation of Agricultural Leaders." Registration is $20 for students and $45 for professionals. Additional information is available at the conference registration website: http://tinyurl.com/p7zg4pz.
Eunice Foster, a professor in the MSU Department of Plant, Soil and Microbial Sciences, was another of the driving forces behind MANRRS, serving as its adviser then and now, along with Stephanie Chau, assistant director for undergraduate diversity in the MSU College of Agriculture and Natural Resources. Foster served as first national MANRRS president and currently chairs the MANRRS National Advisory Board.
"Students wanted to know how many other students like them existed at institutions throughout the nation and wanted to come together to support one another, network, take advantage of all existing opportunities, and envision and create new opportunities," Foster said. "Thus, the national organization was born when the MSU student organization joined with the Penn State Minorities in Agriculture to host the first national meeting at MSU in 1986."
Weatherspoon remembers the visit from Penn State's Marquita Chamblee: "She came from Penn State to meet with us and was disappointed that she was meeting with a group of undergraduate students. We were students taking care of students. How else would something like this start?"
Weatherspoon said it didn't take long for them to win Chamblee over.
"From its inception, MANRRS has been inclusive and reached out to all racial and ethnic groups. Its membership includes African Americans, Hispanica, Native Americans, Asian Pacific Islanders, multicultural students and Caucasian members. MANRRS remains one of the few, if not the only, agriculture-related organization that has diversity as a core part of its mission," Foster said.
Its success would suggest that a group like this would no longer be necessary three decades later, but, Weatherspoon said, the fact that this volunteer-run organization does exist gives more students an opportunity to talk about and connect with careers in agriculture and natural resources.
For MSU alumna Brianna Patrick, MANRRS provided a "strong support group, new friends with both similar and varied interests, and an incredible group of advisers. MANRRS focuses on exposing each one of its members to the mentorship and career opportunities that are best suited to their interests," she said.
Foster and Weatherspoon see a bright future for MANRRS, which continues to grow.
"We fully recognize that our nation and world must utilize all of its human potential to meet the current and growing demands of increased population," Foster said. "We remain committed to help recruit and develop underrepresented students to careers in food, agriculture and natural resources where their work will make a difference and change the world."
Did you find this article useful?
---