Southwest Michigan fruit update – April 23, 2019
Warm weather moved plants quickly. Apricots are blooming.
Weather
Last week was warm. High temperatures were in the 60s and lows in the 40s. Rain fell across the region Thursday, April 18. Rainfall totals were about an inch. The forecast for this week is for warm temperatures with highs in the 60s and lows near 40. Little rain is forecast this week, with a good chance of rain this weekend.
We picked up about 60 growing degree days (GDD) base 42 and 30 GDD base 50. Tree fruit grow at temperatures above 42 degrees Fahrenheit and grapes and other warm weather crops grow best above 50 F.
Soils are moist and soil temperatures are about 50 F. With warmer temperatures in April, we have almost caught up with normal heat accumulation (GDD).
Check out the new animated weather forecasts from Jeff Andresen, Michigan State University agricultural meteorologist, on the Weather tab in the MSU Extension Fruit & Nuts Page. Articles and other regional reports can be found at the Fruit News page.
Southwest Michigan GDD summary from March 1 – April 22, 2019

Station

GDD 42 F

GDD 45 F

GDD 50 F

Benton Harbor (SWMRC)

182

131

72

Lawton (Lawton)

181

129

69

Fennville (TNRC)

141

99

50

Average for the SW region

180

129

70

Accumulation last week

62

45

31
Tree fruit
Forsythia bushes in southwest Michigan are blooming. Yellow bloom close to the ground was snow covered during the January freezes and protected from the extreme cold at the end of January. This is an easy-to-see indicator of the widespread effect of low temperatures in the area. This extreme cold was restricted to southwest Michigan. Areas to the north did not suffer the extreme temperatures at the end of January and did not suffer much damage to stone fruit.
Last week's warmer temperatures caused tree fruit development to move quickly. Early ornamental shrubs (Magnolia, Asian pears, forsythia, etc.) are blooming. There is a slight risk of freezing temperatures by the weekend. Freezing temperatures can damage flowers at bloom and fruit afterwards (see "Freeze damage depends on tree fruit stage of development"). Check blocks for evidence of San Jose scale on branches to determine the need for oil sprays, as that window is quickly closing.
Apricots are in bloom. Bloom is scarce due to January's cold temperatures. There are varietal differences as most varieties have no bloom. Apricots are not a major crop in southwest Michigan, but they are the first stone fruit to bloom. The bloom date for apricots varies widely depending on how warm or cold the spring is. The average bloom date is April 17, so we are about four days late.
Peach and nectarine leaves are expanding. Peaches in southwest Michigan were damaged by the severe cold of the Polar Vortex in late January. This cold did not affect stone fruit to the north where temperatures were warmer. Peach fruit buds on lower branches covered by snow in January are in pink bud stage. A few peach varieties have slower developing basal fruit buds that survived the winter cold. Wood damage from January's subzero temperatures will call for different pruning and fertilizing strategies. (see "Cold damage to peaches").
With little or no peach crop, using copper to suppress bacterial spot populations may not be needed with no fruit to protect. Those monitoring the first generation of oriental fruit moth or manage with hand-applied mating disruption, traps and dispensers should be going up this week. The Enviroweather oriental fruit moth model predicts emergence about April 29. The model predicts male emergence at 175 GDD base 45 from April 1. Newly planted and one-year-old peach and nectarine trees should be protected against oriental fruit moth, which attack the shoot tips in the early spring.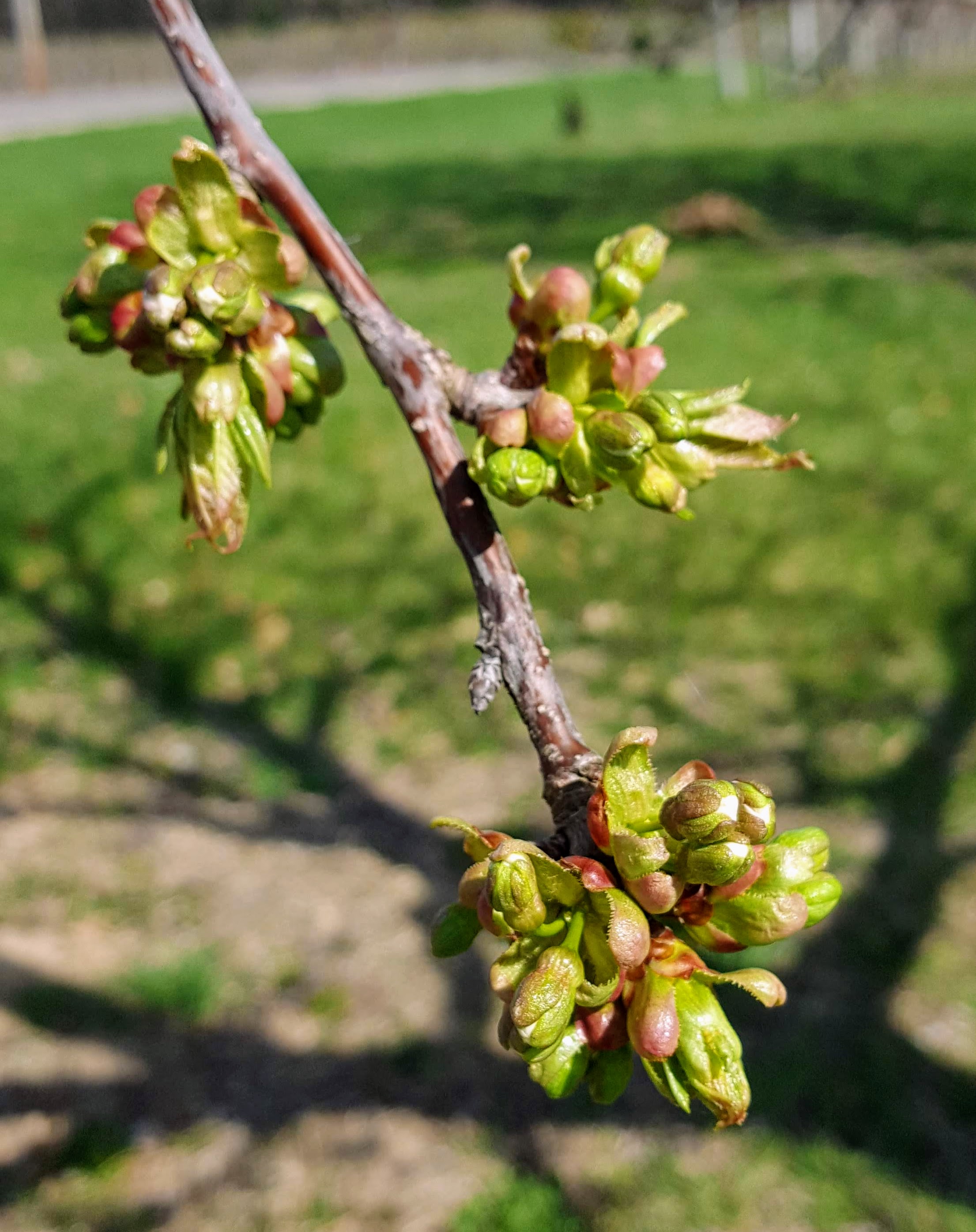 Sweet cherry buds are at bud burst. The most advanced varieties are at tight cluster. We see flower buds that stopped growing after bud swell indicating the bud was damaged by winter cold. We are at the end of the window when copper sprays can safely be applied to sweet cherries. Montmorency tart cherry flower buds are at bud burst. At this bud stage, cherries could be damaged by 26 F.
Japanese plums are at first white. Temperatures below 28 F would damage the flower buds. We are seeing differences in flower bud numbers similar to those in apricots and cherries.
If you have black knot in your orchards, prune out all black knot and dispose of the knots by burning. This is an important step in managing this disease. Ascospores of the black knot pathogen are released from knots from late April to early July, with the highest concentration in May.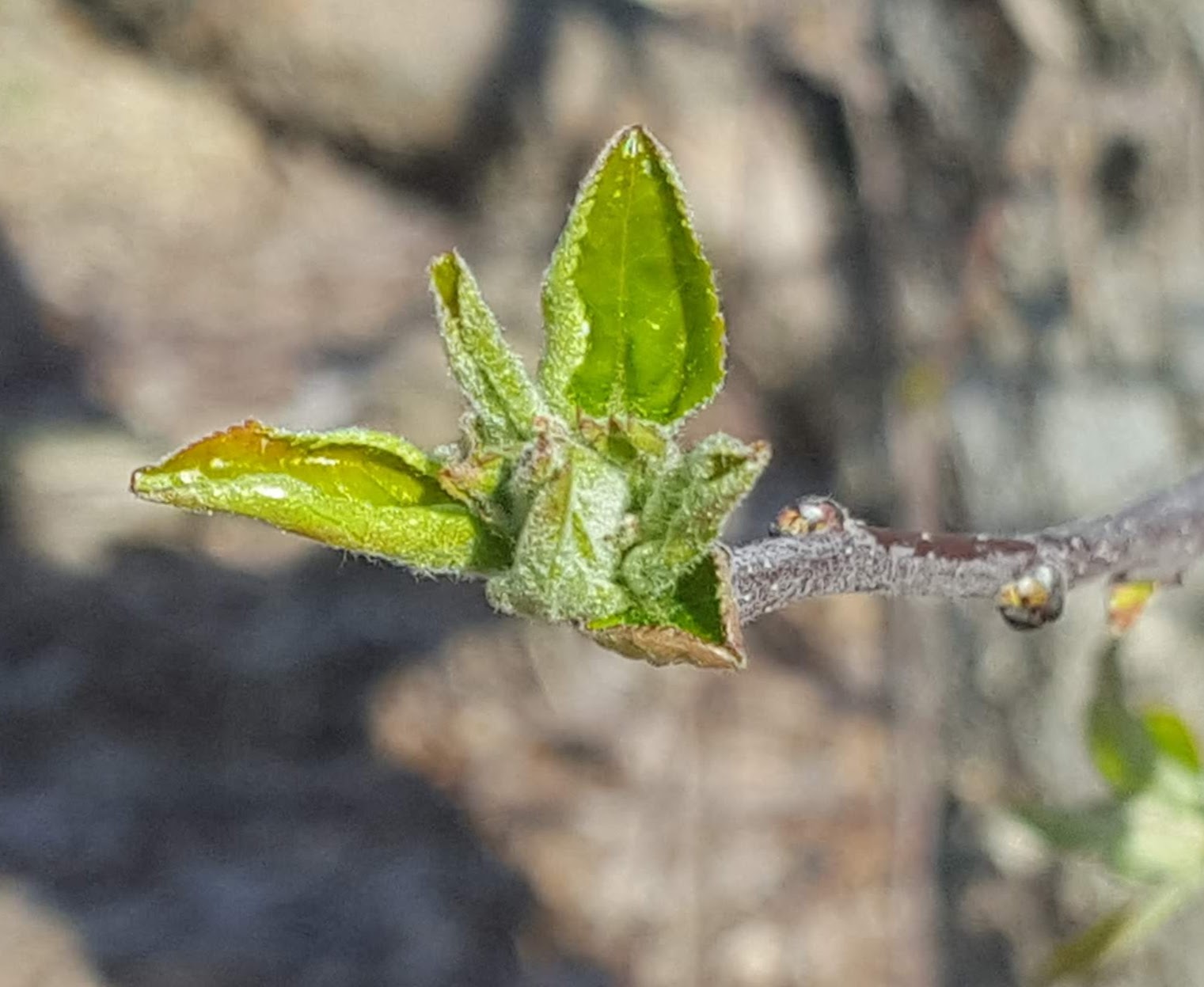 Apples are at tight cluster. Newly planted apple varieties such as Gala and Fuji, which are highly susceptible to fire blight, can gain some protection against this disease with low rates of Apogee in the pink and petal fall periods. With exposed green tissue present across the region, we are now in apple scab season. Low numbers of scab ascospores were caught in recent rains. The rain beginning April 18 was the first scab infection of the season for southwest Michigan.
Cedar apple rust spores will be out as well. Early season insect pests such as redbanded leafroller and spotted tentiform leafminer numbers jumped with the warm temperatures.
Pear buds have burst and Bartlett is at tight cluster. Pear psylla are out. Temperatures below 24 F would damage pears.
Small fruit
Grapes are showing more movement. Concords are early swell. We are seeing swollen buds in many different hybrid varieties. Many vinifera growers are cutting back their winter damaged vines. Grape flea beetles are out.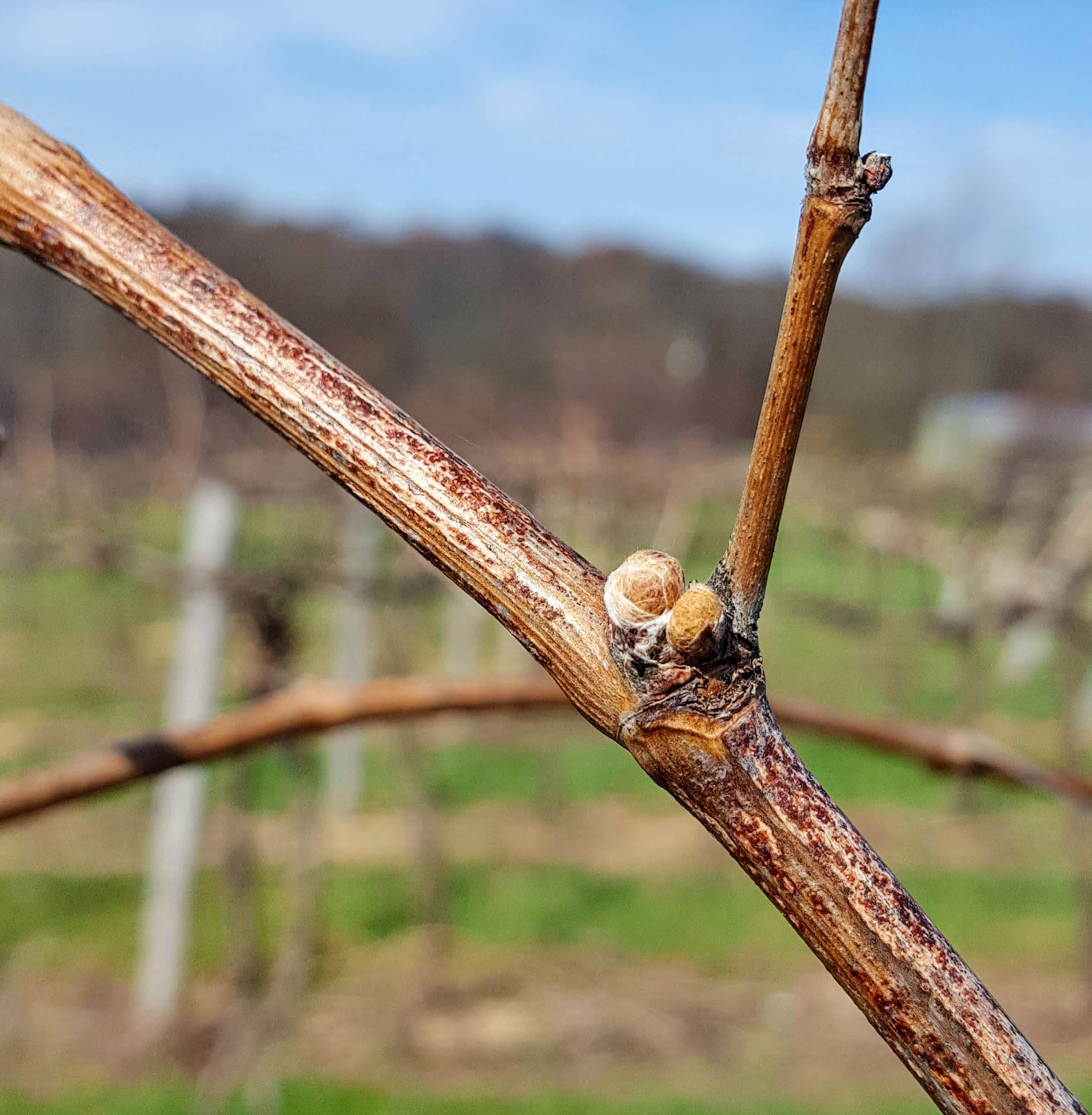 Blueberry flower buds have burst and individual flowers can be seen in the bud. Leaves are emerging, but have not yet begun to unfold. We are entering the window for mummy berry shoot strike; scout for mummy berry mushrooms. Many growers have been applying Sulforix or other products to suppress early season diseases.
Strawberry leaves are still emerging from the crown. Growers are applying herbicides and putting down straw. Remove and rake overwintering mulches between the rows.
Bramble buds are opening. Dormant pruning should be completed quickly. In summer bearing raspberries, last year's primocanes should be headed (cut back) to the desired height and the number of canes in the row reduced to one every 8 to 12 inches. All dead floricanes from last year should be removed. Fall bearing raspberries should be cut or mowed to the ground. Lime sulfur treatments for anthracnose can still be applied.
Upcoming meetings
Our next Monday fruit IPM meeting will be April 29 at 5 p.m. at Fruit Acres Farms, 2559 Friday Rd, Coloma, MI 49038. These meetings are free and open to all. We review the current conditions in fruit crops and discuss pest control options with growers. Two Michigan RUP applicator recertification credits are available at these meetings.
There is a Grape Winter Damage Workshop on Wednesday, April 24, from 9 a.m. until 3 p.m. at the Southwest Michigan Research and Extension Center, 1791 Hillandale Rd., Benton Harbor, MI 49022. The morning portion will be indoor presentations and discussion. Following lunch, the afternoon will be in-field demonstrations on training and recovery strategies.
A Statewide Grape Kickoff Meeting is planned for April 26. This meeting will be held at both the Southwest Michigan Research and Extension Center and the Northwest Michigan Horticulture Research Center, which will be interconnected via the internet. This meeting will be a review of early season insect, disease and viticultural information for growers.
Related articles