Alondra Alvizo spoke to 2018 CANR graduates at commencement encouraging them to be courageous, curious and consistent as they do great things in the world.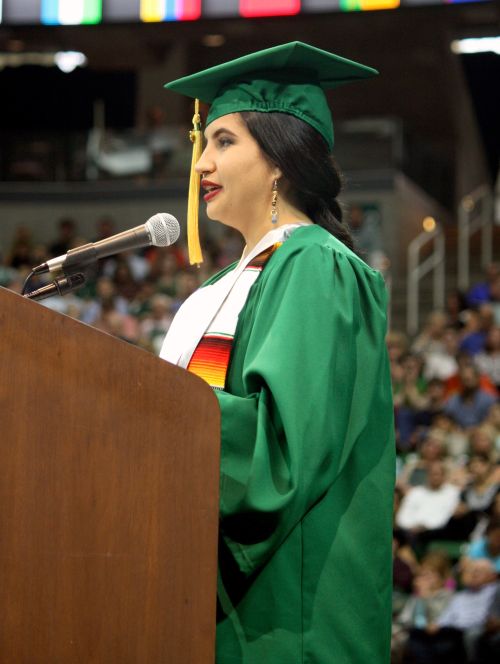 The College of Agriculture and Natural Resources (CANR) participated in 2018 commencement ceremonies for graduate students on May 4 and undergraduate students on May 5.
CANR Outstanding Student Leader Alondra Alvizo spoke to her peers and college faculty and staff at the undergraduate commencement. Alvizo studied agribusiness management.
Below are some excerpts from her speech.
Taking the next steps
"Our learning journey started far before we were all accepted to the first land-grant institution but it surely does not end here. We have all made a choice to be Spartans not just students. With that, I know regardless of the choices you make from this moment forward, you will succeed because Spartans are committed to making a difference in the world around us," Alvizo said.
As a first-generation Mexican woman and daughter of immigrants, Alvizo said she used her time at Michigan State University to learn more about herself and the world around her, including exploring activism. She acknowledged her mother's sacrifice that paved the way for her opportunities, and the courage it took for her to pursue those opportunities.
"There were many moments during my journey where I was afraid. Afraid to be the first in my family to pursue higher education and fail. Afraid to enter an agricultural space without any foundational knowledge. Afraid to look and speak differently from most of my classmates. Afraid I would not make it to this moment we all share today," she said.
In addition to courage, Alvizo encouraged her peers to be curious and consistent.
She said: "Curiosity leads you to discover the parts of yourself that you didn't know existed. By studying abroad in Tanzania, joining the first and largest Latina-based sorority in the nation and co-founding my own organization that supports artists of color, I found my passion and my purpose."
Consistency entails working hard and being steadfast, said Alvizo, as well as holding yourself to your goals.
"I invite you to consistently work on your thoughts, your actions and your visions. Day by day nothing changes but your consistency, the firmness of your character, will dictate the difference in your livelihood long term."
Cultivating the next generation of leaders
Choose who you are, even when those decisions seem difficult, said Alvizo.
"As graduates of the College of Agriculture and Natural Resources, we have demonstrated our commitment to making the hard decisions. We make decisions everyday in the professional sphere that affect the future in how we tackle the biggest questions plaguing the world today: How will we feed the growing population? How will we reduce our carbon footprint? How will we design affordable and accessible housing within communities? How will we create biodegradable packaging to reduce the amount of plastic waste? How will we continue to grow the amount of students enrolled in STEM related fields? How will we collaborate to effectively communicate across cultures and fields?
"Though our courage, curiosity, and consistency, we have taken the first step towards those answers. Spartans will feed the growing population through innovation and use of technology. Spartans will reduce our carbon footprint through our commitment to a greater vision. Spartans will design affordable and accessible housing across the nation. Spartans will create biodegradable packaging to limit our contribution to pollution. Most importantly, Spartans will do all of this by cultivating the next generation of leaders in Agriculture and Natural Resources."