Urban & regional planning alumna Danielle Gerlach received Outstanding Senior Award
Recent MSU graduate Danielle Gerlach was presented with the Urban & Regional Planning Program's (URP) Outstanding Senior Award.
June 22, 2017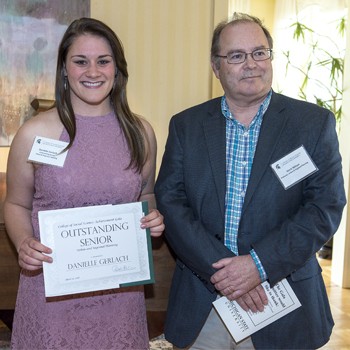 For the last two years, the College of Social Science has hosted an annual achievement gala recognizing outstanding students. Recent MSU graduate Danielle Gerlach was presented with the Urban & Regional Planning Program's (URP) Outstanding Senior Award. She was selected by the faculty for her academic success and commitment to students and the profession.
Gerlach said she has always felt a desire to connect people to resources that help them attain their goals.
"As time has gone by, especially once I was in college, having people do that for me has been so helpful, so I want to be that resource."
Gerlach said her role as communications chair for the Urban & Regional Planning Student Association (URPSA) gave her just that kind of opportunity even though she did not specifically ask for it.
"I ran for president and I lost," Gerlach said. "Then, they told me that the communications chair was available and since I still wanted to be involved, I said yes."
Gerlach helped organize the annual Student Michigan Association of Planning (SMAP) Conference where she facilitated networking between students, alumni and practitioners.
Gerlach also spent the last three Spring Breaks volunteering for Alternative Spartan Breaks where she was sent with a group to Kansas City, MO; New Orleans, LA; and Edmonston, MD.
"A week is really not that long when you think about it, but I've been on three trips, and each one has offered visible changes where you're just like, 'we did this. . . in a week?' It kind of blows your mind," she said. "You're just so happy to be there, and so happy to help once you see the difference you make."
All of these experiences helped Gerlach make her very natural resource-orientated and she knew she wanted her next job to be in that field. In October 2015, Gerlach Google searched natural resource internships and stumbled upon the Glassen Scholar web page. She said it took a few moments to consider if she was qualified before applying.
"I wasn't sure, but I took a chance," she said. "I applied and interviewed, and was so excited. As soon as I walked out of that interview I remember thinking 'I really hope I get this!'"
She did, and was placed with Michigan Sea Grant, a program dedicated to the protection and sustainable use of coastal resources.
"I loved it," Gerlach said. "It was still relevant to urban planning, but it tied in natural resources, which is really what I was looking for. "
Gerlach recently finished the Urban Planning 494 Planning Practicum, URP's capstone course, where she finessed her ability to work as a team with other planning students of various levels of experience.
"I am type-A, and like to be in control of the situation," she elaborated. "At some points in the semester my teammates would be like, 'hey, we're here! It's okay!'"
Her group was assigned to research existing conditions in Downtown Wyandotte, MI. and make recommendations based on their findings. This provided an excellent opportunity to learn how to both work independently and together.
"There was this one specific part of the project the instructors and client wanted, and I was panicking because, you know, I am who I am," she said.
Gerlach said she realized she needed to delegate, and listen to and trust her teammates.
"I was reading through the document and it was just done so well," she said. "I think that it was a good learning experience for me about working as a team, and it was a great addition to the project."
On her award as an outstanding senior, Gerlach said it is all about being involved.
She stated, "All my instructors know me by name, and they know about my volunteering, because I love talking about those experiences and just being open about the things that I'm doing."
One of the perks of being the outstanding senior is that Gerlach led the URP Undergraduate Students at graduation.
Please join us in congratulating Danielle Gerlach for her award!