Visiting Vietnam: Dancing in the mountains
Jill G., Animal Science, '14
March 7, 2013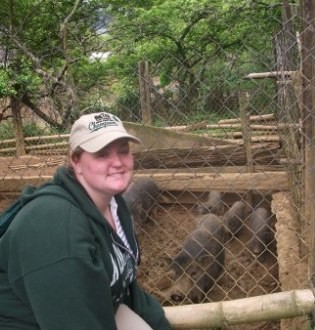 Oh what a day! I was woken up today at the homestay by the rooster crowing at 4 in the morning! That was an un-needed wake-up call. However, the people that we were staying with were very hospitable. They were happy to have us and glad we had a good time.

We then went to visit pig farms. These pig farms were
special because they had "running pigs." Running pigs are what I would refer to as organic or natural raised hogs. They were growing in, essentially, a field of wild grass. These pigs were very small and they resembled the wild boars that run around in Michigan. Hey the "running pigs" have made it to Michigan! The difference is that in Michigan we don't care and raise them, we consider them a nusiance. Anyway, back to the pigs. The pigs were kept in an outdoor lot and were rooting up the ground. They were also fed a banana and rice bran meal as well.

Our second and third farm were operated by Hmung people. They live in the Moc Chau area in the mountains. They raise pigs, and chickens and forage off the land. On the last farm visit we heard noise coming from a building, everyone thought it was some kind of meeting going on but apparently it was the exact opposite. They were having a celebration!

The celebration was a combination of New Years and Women's Day. From what all of us have gathered Women's Day is a day to honor the women, and it seems like Valentine's Day and Mother's Day combined. They invited us in, shook our hands, and invited us to take a seat. I was then pulled to a circle of Vietnamese people where I was offered some of their food and drink. I was so confused! The lady sitting next to me started to compare my skin color with hers and then compared my hand size. I really wish I knew what they were saying, but they were laughing and conversing with us, well, trying to anyway. Then they started to play music! To be more specific techno! Shari was the first one to get up and dance with a Hmoung woman. After that everyone started to join in and we had a blast. They really didn't want us to leave but we had to leave and get on our time schedule again.

The experience with the Hmung people is one I will never forget! It made me think that these people just openly accepted us without any knowledge of who we are. It didn't matter that we were a different skin color, different sizes, or that we spoke a different language. To the Hmong people our group of people were just that, people. So the next time you see someone that's the complete opposite of you, just think that all the "different's" don't really matter, because to the Hmong it doesn't. That is the lesson I'm taking from today!
Jill and her classmates studied in Vietnam March 2 to 10, 2013 as a part of a Michigan State University class on emerging issues and sustainability in international agriculture.