AFRE 2015 Outreach Conference for Michigan Agricultural Lenders, Agribusinesses, and Policy-makers
AFRE, other MSU and Mid-West University Researchers Presented Research and Policy Outreach Insights at the Annual Michigan Agricultural Credit Conference, October 26, Kellogg Center, MSU.
October 27, 2015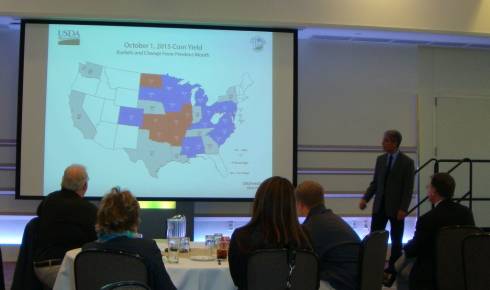 Over 95 Michigan Agricultural lenders, agribusinesses, and policy-makers attended the 2015 AFRE facilitated Agricultural Credit Conference. Organized by Chris Wolf and Nancy Creed, informative and timely presentations came from AFRE faculty – Dave Schweikhardt and Jim Hilker, MSU Extension Staff – Roger Betz and Beth Ferry, as well as Jeff Anderson of MSU's Department of Geography. Outside MSU insights also came from Todd Kueth of the University of Illinois and Mark Stephenson of the University of Wisconsin.
Topics included relationships between business and credit cycles in agriculture, cost models for farmers and ag lenders to use in comparing new pork enterprise investments, policy outlook for agricultural, trade and macroeconomic situations, climate change and potential ag sector impacts in the Great Lakes regions, and market and price outlook for dairy, grains, soybeans and livestock. (View here all the informative conference presentations).