November 12, 2018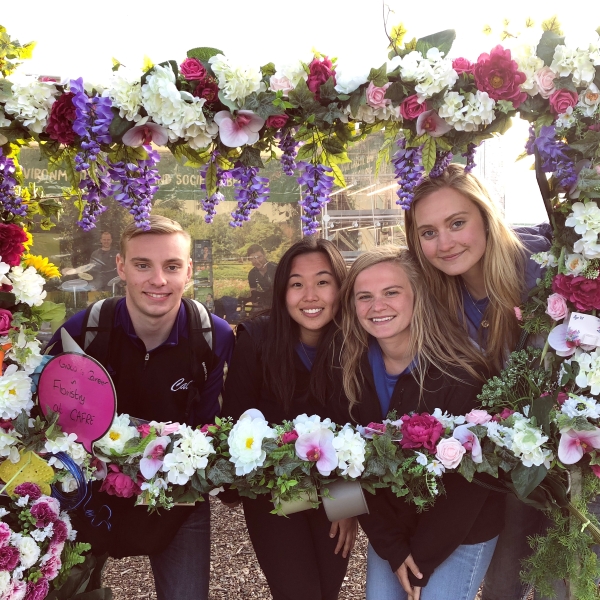 The Michigan State University College of Agriculture and Natural Resources (CANR) relies on its institutional partners in other countries to provide a wide range of study abroad experiences for students. This year the college is honoring one such partner, the College of Agriculture, Food and Rural Enterprise (CAFRE) in Northern Ireland with the H. Paul Roberts Award for Distinguished Service in Education Abroad.
The award was named for H. Paul Roberts, a longtime administrator in the college who contributed greatly to CANR study abroad programs, when he retired from MSU in 2008. It has been given to individuals in the college since 2007, and was expanded in 2018 to include a division for institutional partners such as CAFRE.
CAFRE has three campuses—Enniskillen, Greenmount and Loughry—that offer courses in agriculture, food, horticulture, equine and agri-food business. The academic programs and curricula reflect the philosophy of "learning by doing," which helps students develop both practical and theoretical skills.
"This award recognizes one of CANR's longest standing exchange programs and partnerships," said Rhonda Crackel, director of CANR study abroad programs. "CAFRE's dedication and commitment to education and partnered learning has been a cornerstone of the CANR study abroad program."
Since the partnership began in 1996, more than 165 MSU and CAFRE students have traveled abroad to study at the other institution. CAFRE has also hosted dozens of MSU students through CANR faculty-led study abroad programs and the MSU first-year seminar abroad program.
CAFRE Head of Agriculture Education George Moffett received the H. Paul Roberts Award for Distinguished Service in Education Abroad. It was presented by CANR Dean Ron Hendrick.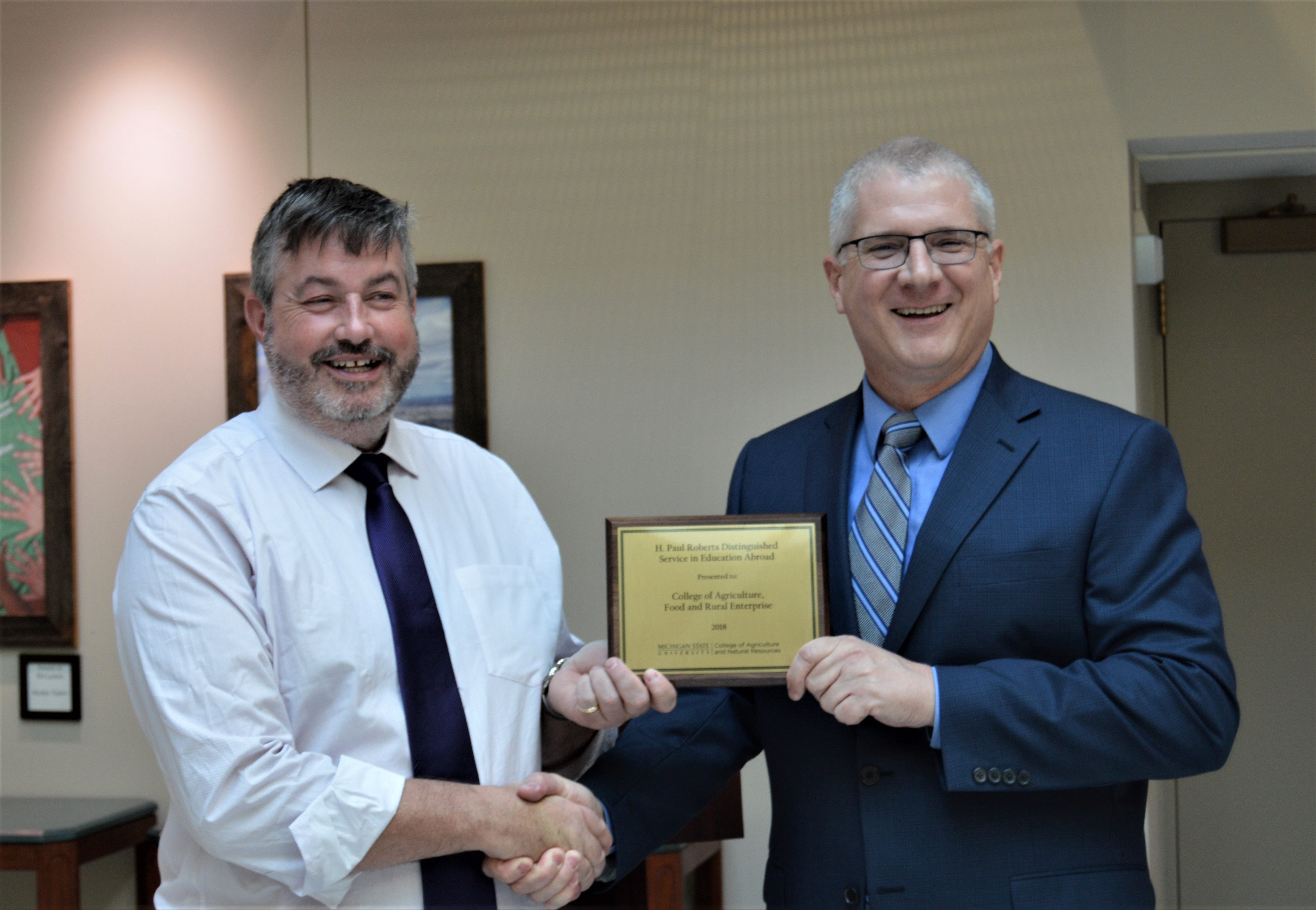 Applying agriculture practices abroad
MSU consistently ranks high among American public universities for study abroad participation, and more than 30 percent of CANR students participate in some form of education abroad. This would not be possible without the dedication of CANR faculty and staff members and the engagement of partners in other countries.
Agricultural operations freshman Hannah Harless was part of a summer 2018 CANR study abroad program. She studied agriculture and natural resources at CAFRE's Greenmount campus as part of a six-week experiential learning program. Harless is in the MSU Institute of Agricultural Technology.
"While most of my jobs at the dairy were things I already knew about, I had never put them into practical application before going to Ireland," Harless said. "I had so many new experiences, like milking cows, trimming hooves and dosing sheep to prevent worms."
She said her CANR study abroad experiences were a formative part of her education, including working on behalf of CAFRE at the Balmoral Show, Northern Ireland's largest agri-food event that takes place in Balmoral Park, Lisburn, each May.
"When I left Ireland, I felt as if I was ready to take on the world," said Harless. "Ireland and all the people working at the farms inspired me. Agriculture is a great area to pursue as a career."
Distinguished service award for education abroad
Individual nominees for the H. Paul Roberts Award for Distinguished Service in Education Abroad must be CANR faculty or staff members who have established longevity in CANR education abroad, are emerging leaders in CANR education abroad, or who work behind the scenes to support the students who participate in CANR education abroad programs.
Group nominees must be institutions or organizations who have demonstrated significant, sustained collaboration and commitment to CANR education abroad programs.