Ed Voss Collection of Lepidoptera donated to ARC
Ed Voss, who was most noted for his work as a botanist, passed away earlier this year.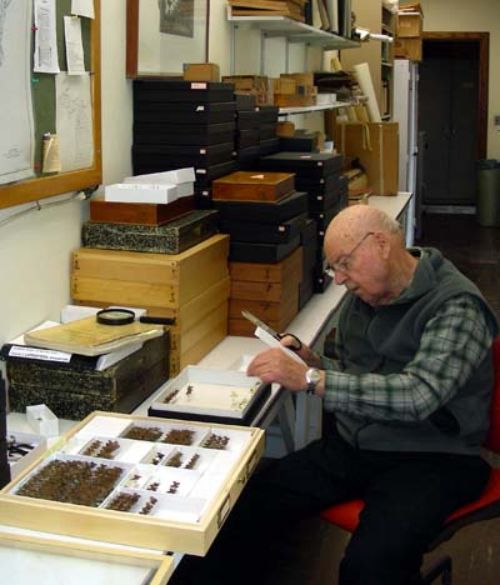 Although Ed Voss was most remembered for his work as a botanist at the University of Michigan, he also was an avid butterfly and moth collector, who unfortunately passed away earlier this year. His collection was bequeathed to MSU and the ARC. Gary Parsons and Ron Priest recently drove north to the family cottage at Mackinaw City to pick up this collection and bring it to the ARC. The collection was originally housed in 123 Schmidt and other collection boxes, but has now been transferred to Cornell drawers and unit trays. It contains 33 families of Lepidoptera totaling over 6,000 specimens with Noctuidae, Hesperiidae, Geometridae, and Nymphalidae being the most numerous. In addition, specimens of 15 other orders of insects were represented, for a total of 6,382. Nearly the entire collection was collected from just two Michigan counties, Cheboygan and Emmet, near the family cottage and the UM Bio Station at Douglas Lake where Ed spent many of his summers. Mo Nielsen, Ron Priest and Frank West are curating and processing these specimens into the main collection.