FIM Student Takes Flavor Tour across America
The Sunset Flavor Tour is one road trip that MSU senior Adrian Mendoza will never forget.
March 11, 2015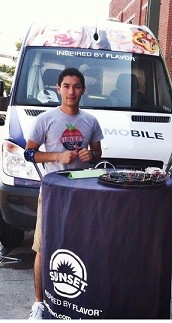 The Sunset Flavor Tour is one road trip that MSU senior Adrian Mendoza will never forget. That's because he was part of an internship with Sunset Produce to promote and educate consumers about the grower's products, driving coast to coast in a colorful food truck that stopped at some of America's leading grocery stores.
Sunset is the brand name for the family-owned Mastronardi Produce, based in Ontario, Canada, one of North America's leading greenhouse companies and a recognized industry leader with brands such as Campari, Angel Sweet and Kumato tomatoes, plus cucumbers and peppers.
Following a series of interviews with Sunset, Mendoza, a food industry management major with a minor in agribusiness management, was selected along with MSU graduates Mallory Flanders and Madison Rial to embark on Sunset's first "Flavor Tour" to spread the word about its products to a wide swath of American consumers, mainly in grocery stores but also at community events. Flanders and Rial both graduated in 2014 with degrees in food science.
After several weeks last July spent learning about Sunset's business and products, the three-person crew hit the road in early August in a Chevy Volt chase car and a Mercedes Sprinter food truck emblazoned with decals of Sunset produce. Their multicity tour included stops in Detroit, Chicago, St. Louis, New York, Boston, Denver and San Francisco. The Flavor Tour ended in mid-October with a stop at the Produce Marketing Association's 2014 Fresh Summit in Anaheim, California.
"When conceptualizing the tour, our overall goal was to spread flavor," Daniela Ferro, communications coordinator for Sunset, wrote in an email. "We wanted to share our passion with consumers and show them our products and how they can use them, how healthy flavor can be and how sustainable greenhouse growing is."
Although this was the first such tour for Sunset Produce, Ferro said she believes the company selected the perfect group of young people for the job.
"From the beginning they all exuded incredible enthusiasm and passion," she said of the three-person team, dubbed the Flavor Crew. "Their ability to apply everything they learned combined with their own experiences and personalities really blew us away. They were able to introduce many of our Sunset products, share our greenhouse story and collect consumer data efficiently."
For Mendoza, 22, the Flavor Tour was an invaluable opportunity to see how food products are placed in a retail outlet, promoted and ultimately sold to the food-buying public. After pulling into each new location at the beginning of the week, the team toured the store (stores included groceries such as Whole Foods and Costco and regional favorites such as Fairway in New York) and met with store managers. The team was charged with checking out the Sunset products and making sure the displays were properly stocked. They shopped for the ingredients they would need to prepare sample items such as a Campari tomato bruschetta, a tomato and watermelon salad, or a flatbread pizza made with Sunset peppers. The emphasis was on keeping the prepared food simple to allow the flavor of the produce to shine through, Mendoza said.
"We either had people say, 'We love Sunset, we always buy Sunset,' or some people didn't know of us at all, and some people said they didn't like tomatoes, so we had to say, 'We'll change your minds!" Mendoza said.
At the PMA convention in Anaheim, the team interacted with food industry representatives from around the world. The Flavor Tour also garnered mentions on various food blogs and was the subject of a story in the Fall 2014 issue of the produce industry magazine The Snack. Upon their return to Sunset headquarters in Ontario, the team made a presentation to company executives, and Mendoza debuted an eight-minute video of the tour that he put together.
Mendoza said he learned about the internship from Larry Zink, AFRE's industry relations/outreach coordinator.
"It was a big decision to take a semester off," Mendoza said. "And it really was eye-opening. With everything I learned, I wouldn't have it any other way. I got an overview of the whole industry and the opportunity to see the consumer end rather than just being in an office."
– Christine Meyer