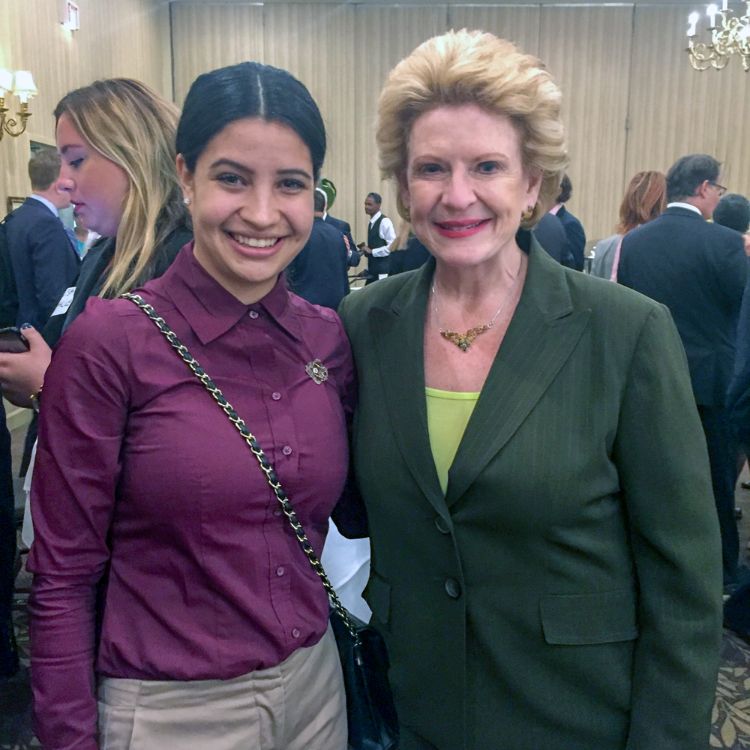 Agribusiness management senior Alondra Alvizo was named the 2018 Michigan State University (MSU) College of Agriculture and Natural Resources (CANR) Outstanding Student Leader. By tradition, the winner of this award represents the graduating seniors as class speaker at the CANR Commencement ceremony.
All nominees for the Outstanding Student Leadership Award have shown service and leadership in the CANR and through their university activities.
This year, faculty members, academic advisers and club advisers nominated 10 seniors:
Alondra Alvizo, Agribusiness Management, Detroit, Michigan
Rachel Hand, Food Science, Lewis Center, Ohio
Julie Joseph, Food Science, Naperville, Illinois
Lidia Komondy, Entomology, Grand Rapids, Michigan
Amy Leitch, Animal Science, Elkton, Michigan
Rebecca Levin, Dietetics, Naperville, Illinois
Rachel Nanteza, Environmental Studies and Sustainability, Kampala, Uganda
Waldemar Ortiz, Fisheries and Wildlife, Carolina, Puerto Rico
Tabitha Rose, Food Science, Battle Creek, Michigan
Kiana Wood, Nutritional Sciences, Petoskey, Michigan
Alondra Alvizo
From leading protests for student rights, to interning for a political campaign and creating platforms for others to share their art, Alondra Alvizo has acted as a representative of her fellow Spartans — and will continue to do so as this year's CANR Outstanding Student Leader.
Born in Guadalajara, Jalisco, Mexico, and raised in Detroit, Alvizo plans to speak at the CANR Commencement about her journey at MSU and beyond, but also about her roots, including being a first-generation college student. (Read an excerpt of Alvizo's commencement speech.)
"Through all my experiences, my passions for urban agriculture, food independence and access to locally grown, affordable, healthy food for each community across the nation has only strengthened," said Alvizo. "And the work we do in our college is unmatchable."
In addition to being a leader within the CANR, Alvizo also has a YouTube Channel, Vizo's Voice, focusing on community empowerment, especially for communities of color and artists of color across Michigan.
"Your grades are a reflection of your discipline and conceptual understanding, but the person you become after your four years of college is a reflection of all the extracurriculars and everything you did outside of the academics," said Alvizo. "You have to be a well-rounded individual because the world you will be entering after your four years is a reflection of who you were these past four years."
Read more about Alvizo in "Not Just a Student, A Spartan."
Rachel Hand
Food science senior Rachel Hand was part of the Food Science Club and the MSU Product Development Team. She participated in study abroad in Europe and researched milk lipids through an internship at Virginia Tech.
"The advice I would give to an incoming freshman student is to be yourself and to be ready for whatever opportunities come your way. Don't shy away from opportunities you feel like you aren't ready for. Just be open and ready to learn and grow as a person," said Hand.
Julie Joseph
Julie Joseph, food science, studied abroad in New Zealand, Belize and Europe during her time as an undergrad in the CANR. She also had several internships in the pet care industry with Mars Incorporated.
"For all the freshmen coming into MSU, take advantage of all the opportunities that are presented to you," Joseph said. "In the end it's the people who make your experience at MSU, and that's what you're going to remember."
Lidia Komondy
Lidia Komondy majored in chemistry at MSU before she discovered and switched to entomology as part of an undergraduate research position and an encouraging faculty member. Komondy studied abroad in Sri Lanka, participated in research projects with bark beetles and bumblebees, and was an MSU Bug House tour guide during her time in the CANR.
"Don't settle for things you think you should be doing. You've got to really enjoy it. It's a gut feeling. I knew the minute I was in entomology it was right, right for my career," said Komondy.
Amy Leitch
Animal science senior Amy Leitch participated in the CANR Student Senate, Block and Bridle and Dairy Club, and she helped with college events such as MSU Small Animals Day and Ag Day at the Rock. Her internship experiences ranged from livestock nutrition and agronomy for a feed mill to communications and event promotion for the Michigan Corn Growers Association.
"These clubs have helped me become my own person and an individual that recognizes the importance of agriculture in the world that we live in. They have opened my eyes to the many opportunities that our industry has to offer and have better prepared me to go into the real world upon graduation," said Leitch.
Rebecca Levin
Rebecca Levin majored in dietetics and was part of the Honors College, Food and Nutrition Association and MSU Product Center. Levin studied cooking from farm to plate in France and interned with MSU Extension in Muskegon County while part of the CANR.
"My advice to an incoming freshman student would be to take advantage of all the opportunities the College of Agriculture [and Natural Resources] has to offer," said Levin. "Just try one thing new each semester so by your senior year you feel very prepared to enter the world."
Rachel Nanteza
Environmental studies and sustainability senior Rachel Nanteza said her broad experiences in the CANR and MSU have provided transferable skills for her to use and lead within her home country of Uganda.
"Take advantage of the diversity that MSU actually brings to place just by virtue of being here. There's a lot of greatness in learning about the differences that we inhabit as humans," said Nanteza. "Being here has taught me how to appreciate my own culture even more because the more authentic you are, the more you're going to enrich the MSU community."
Waldemar Ortiz
Waldemar Ortiz said being a Puerto Rican studying fisheries and wildlife has enabled him to present a unique perspective. Ortiz was part of the Fisheries and Wildlife Club and participated in research with Cleveland urban ecology and Northern Michigan elk populations.
"One of the first things that I did here was actually talk to my professors, talk to the people who have been leaders in their own respective fields for 30 or 40 years now," said Ortiz. "I think that's one of the biggest challenges students face, breaking that barrier between them and their professors, and I think it's the most gratifying thing you can do."
Tabitha Rose
Food science senior Tabitha Rose led two product development teams, pursued internships researching egg white functionality and testing mint flavors in different applications, as well as dancing in the State Swing Society and leading as the group's president.
"Really take advantage of all the opportunities that MSU has to offer especially when you're starting out," Rose said. "Experience new things and meet new people."
Kiana Wood
Kiana Wood, nutritional sciences, was the president of the American Indian Science and Engineering Society along with being part of a research education program to increase diversity in health researchers.
"Don't be afraid to fail. Always push yourself in the face of failure because you will find the most success in those situations," said Wood.
The CANR Undergraduate Commencement is Saturday, May 5, starting at 7:30 p.m. at the Breslin Student Events Center.