George Sundin named Beal Outstanding Faculty Award winner
Each year, William J. Beal Outstanding Faculty Award winners are honored for a comprehensive and sustained record of scholarly excellence in research and/or creative activities, instruction and outreach.
February 5, 2016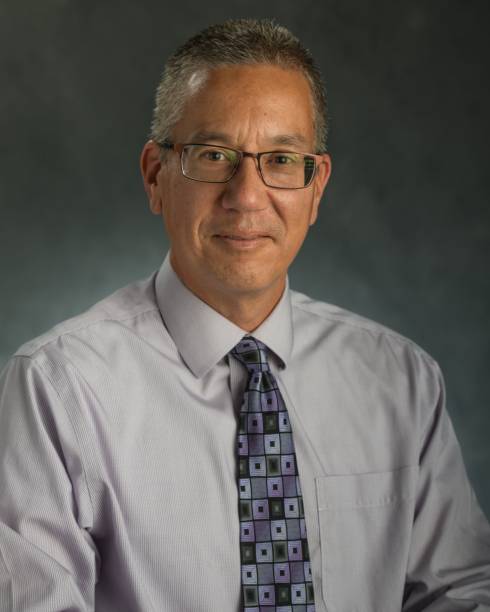 Since joining MSU in 2002, George Sundin has developed an internationally recognized basic and applied research program as well as an extension program that has gained international recognition. His lab conducts pioneering research on plant diseases and then provides information to growers on how to protect their fruit trees against devastating losses. His work helps protect Michigan's multibillion-dollar fruit tree industry.
Sundin is globally recognized for his basic research program that explores the development of important plant diseases, such as fire blight. His work on the biofilm formation in fire blight helped explain how the disease spreads through individual trees and orchards. Further, his DNA repair research helped explain the biology?and evolution of plant pathogens. Sundin's review article in the recent 'Annual Review of Phytopathology' highlights his research on plasmids in phytopathogenic bacteria. His combining of fundamental molecular genetics and biochemical studies with his ecological research on ultraviolet radiation is widely recognized for its innovation. He has published 93 peer-reviewed journal articles.
Sundin teaches the graduate-level course "Prokaryotic Diseases of Plants," which examines the prokaryotic genera associated with plant diseases. In addition to teaching graduate students in the classroom, he has trained 10 postdocs, 10 doctoral candidates, and 11 M.S. students, while also serving on 40 thesis and dissertation committees. Students at MSU and around the world admire his expertise in both basic and applied research. In January 2015, he was invited to present a seminar to the Department of Plant Pathology and then named the 2014–15 Calavan Lecturer at the University of California, Riverside.
Sundin has served as associate, senior?and editor-in-chief of the prestigious journal 'Phytopathology.' In addition to editorships, ?he has reviewed 285 research papers for 58 journals, reviewed 176 different grants and programs, and served on 10 different national, international, and professional society committees in addition to 16 different University and department committees. Sundin has an unparalleled service record within MSU Extension. Each year he updates the 'Michigan Fruit Management Guide' that lists all the fungicides that are labeled in Michigan for disease control and rates the fungicides from the trials that he conducts each year. He has produced 28 Extension videos for YouTube, has presented 308 talks to growers, and published 73 Extension bulletins and 165 newsletters and online articles.