Green Power at MSU? AFRE students analyze and answer
Could a wind farm be built on the campus of Michigan State University? How about a solar array encompassing hundreds of acres, or even a small-scale nuclear reactor that could provide clean power to the sprawling campus?
August 27, 2013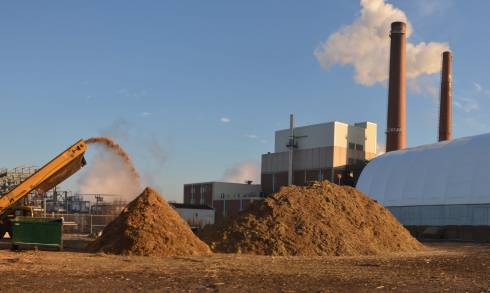 Could a wind farm be built on the campus of Michigan State University? How about a solar array encompassing hundreds of acres, or even a small-scale nuclear reactor that could provide clean power to the sprawling campus?
Each of these options may be feasible in the decades to come, but it's unlikely they could help meet short-term goals to reduce the amount of greenhouse gases currently being generated by the on-campus power plant that supplies MSU with almost all of its energy.
That's the conclusion reached in a report titled "The Next Generation Energy Strategy: The T.B. Simon Power Plant," authored by a six-member group of graduate students from the class "Business, The Environment and Sustainability." The class is taught by Satish Joshi, an associate professor in the Department of Agricultural, Food and Resource Economics (AFRE).
Joshi also is a member of the university's Energy Transition Steering Committee, whose report recently was approved by the MSU Board of Trustees. According to this report, the university wants greenhouse gas emissions from the power plant cut by 65 percent while shifting to 40 percent renewable energy by 2030. Ultimately, the goal is to generate 100 percent of the university's power using renewable sources.
The T.B. Simon Power Plant is the largest on-campus coal-burning plant in the United States and is one of the top 500 power generating plants in the country.
"MSU has some pretty aggressive targets for greenhouse gas reductions," Joshi said. "But there are lots of options: wind, biomass, solar, geothermal and energy efficiencies. So this was an ideal challenge for a graduate class. It's a very complex problem."
The students' working document was the 2010 Black and Veatch energy report. They also conducted interviews with stakeholders such as Robert Ellerhorst, director of the power plant, and environmental engineer Bill Lakos. The students also were given access to custom-designed software that allowed them to plug in various energy alternatives to determine which would meet the university's energy needs in the most cost-effective manner and still hit the clean energy targets.
Joshi said the energy options may be finite, but the variables the students had to consider were almost endless. What will demand for power at MSU look like in 40 years? How many buildings will there be? What will they be used for? What about a major energy user such as the FRIB (Facility for Rare Isotope Beams) -- how will its energy needs be met? When should we invest, how much, in which technology?
Doctoral candidate Leah Harris said she and her classmates were able to act as consultants on a complex, real-world challenge that required them to synthesize reports, interview stakeholders and work with a complicated computer model.
"We had never seen the computer model before, and it was a task to understand it," Harris admitted. "But it wasn't just an abstract problem but one going on today and for the foreseeable future. We were hoping to find an 'Aha!' technology that would let us meet our goals economically, but we found that there was no magic bullet."
According to the students' 26-page report, MSU has the best chance of meeting its 2030 energy targets by transitioning from coal to natural gas as the primary fuel source for the power plant. The reason: burning natural gas produces half as much carbon dioxide as burning coal. The T.B. Simon plant already burns 100 percent natural gas in one of its boilers; two others are able to burn all natural gas, and a fourth boiler can burn almost half natural gas. That boiler also has the highest capacity for biomass, which should be increased to 30 percent in that boiler, the report stated.
The students also concluded that, for the short term, to meet renewable energy targets the university should buy renewable green power such as wind and solar from large utility companies.
"One of the main issues we found is that renewable technologies are young, and we're limited to tested, renewable solutions, so we need to purchase green power" to hit renewable energy targets, Harris said. "But technologies are developing so rapidly for renewables that beyond 2020 there should be opportunities to invest in some of those options. We can't just buy our way out to meet the goals."
Indeed, MSU has made a start with renewable energy. The new Bott nursing building has a geothermal heating and cooling system, and solar panels are being used at the MSU Surplus Store and Recycling Center.
Jennifer Battle, director of campus sustainability, was one of the university officials to whom the graduate students presented their report.
"It's always good to get a fresh set of eyes on this, and when students get involved, that's a great piece of it," Battle said. "These students have thought about this and how it affects their generation and how we can keep improving."
-- Christine Meyer