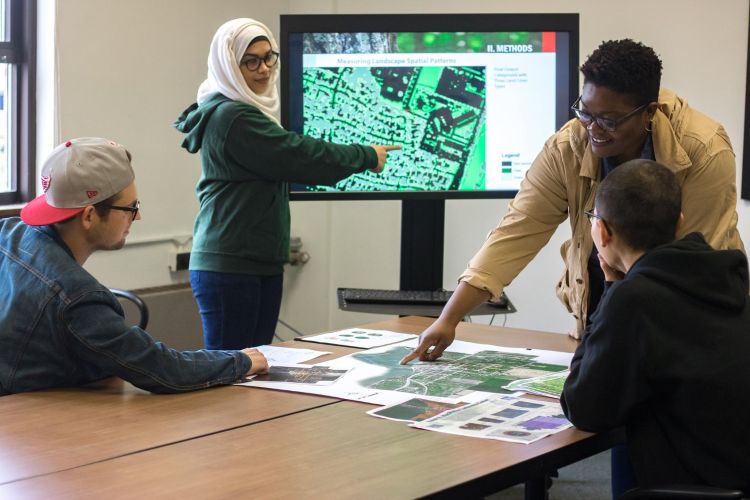 The Michigan State University College of Agriculture and Natural Resources (CANR) participated in 2019 commencement ceremonies on May 3 for graduate students and May 4 for undergraduate students.
The 2019 CANR Outstanding Student Leader Stephanie Onwenu spoke to students, faculty and staff at the undergraduate commencement about their professional transitions and making a difference as Spartans in the world.
Onwenu graduated with her bachelor's degree in landscape architecture in December 2018 while working on her graduate studies. On May 3, Onwenu also graduated with a master's degree in environmental design from the MSU School of Planning, Design and Construction.
After graduation, Onwenu said she looks forward to being able to give back to her community in Detroit and being an active part of reshaping the landscape around her.
The YouTube video of Onwenu's speech also includes a transcript.
Life lessons
Onwenu said in her graduation speech that she hoped by sharing some of her life lessons she could challenge the students in their professional lives to be fearless, open to change and present.
"Be fearless and make hard decisions that will impact your future. Begin by creating goals and objectives as a guide," Onwenu said. "You gain more courage, strength and confidence with those experiences."
The second life lesson in Onwenu's address to graduates was to be open to change.
"Change is not always easy. It comes in many forms in our lives and some changes are harder than others," she said. "It can also mean failing at something you are very much passionate about. Know that change is for the better. It pushes us beyond our comfort zones, ultimately improving our potential and abilities."
Her last life lesson was to be present and focus on what you want in life.
"Be present today in your actions, and in your decisions, and at every stage of your life," she said. "Today we come together as students of the College of Agriculture and Natural Resources to celebrate a job well done. A job that has opened a door to many and more opportunities.
"As we all prepare to go out in the world as Spartan alumni, remember who you are and don't ever forget your value."
This article was published in In the Field, a yearly magazine produced by the College of Agriculture and Natural Resources at Michigan State University. To view past issues of In the Field, visit www.canr.msu.edu/inthefield. For more information, email Holly Whetstone, editor, at whetst11@msu.edu or call 517-355-0123.