Visiting Vietnam: Learning the culture
Riley C., Michigan State University, Animal Science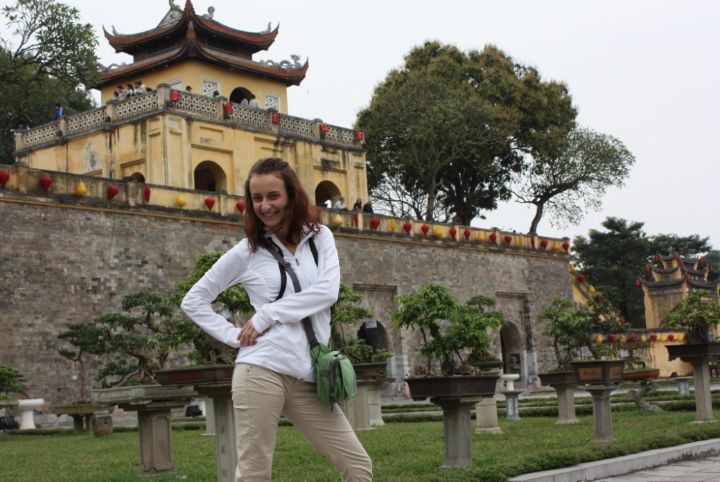 Our first full day here was a busy one, and full of Vietnamese culture. Throughout the day we visited different historical landmarks throughout Hanoi, Vietnam's capitol. We saw the presidential mausoleum where we visited Ho-Chi Mihn's tomb, his presidential palace, and the houses he lived in while he was alive; the temple of literature; and the Museum of Ethnology.
The place that we visited today that really had an effect on me was the Museum of Ethnology. Throughout this museum it had representations of the 54 different minority groups throughout the country. Each group is unique, from the way they dressed to their location.
The museum demonstrated the different minorities through artwork and displays of their clothing and items they use daily. The museum is surrounded by housing types used in each ethnic group. Some houses are made from a hard clay with palm roofs. Another type are stilt houses with bamboo flooring, along with many more. Each group had their own housing style that benefits them based on where they are located.
Being able to walk into all of these houses and see how others live on a day-to-day basis really put things into perspective. At home I am able to watch television and use my phone while sitting on a comfortable couch. The houses we visited today did not have electricity and their living rooms were just a floor with straw mats. Their beds were sometimes raised off the floor and were just a hard surface with a straw mat over them.
Being able to experience this makes me realize what luxuries I have in life and to keep in mind how others live throughout the world and that not everyone is like the United States.
Riley and her classmates studied in Vietnam March 2 to 10, 2013 as a part of a Michigan State University class on emerging issues and sustainability in international agriculture.
Did you find this article useful?
---