Felicia Wu, John A. Hannah Distinguished Professor in the departments of Agricultural, Food and Resource Economics (AFRE), and Food Science and Human Nutrition (FSHN), in the Michigan State University (MSU) College of Agriculture and Natural Resources, has been named a 2020 William J. Beal Outstanding Faculty Award honoree.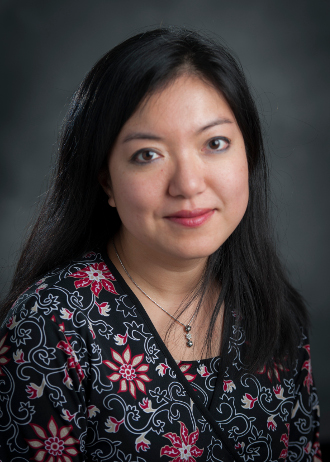 The awards, named in honor of Beal, the late MSU botany professor credited as one of the pioneers in the development of hybrid corn in the late 19th century, are given annually to faculty who demonstrate outstanding research, teaching and service to benefit MSU.
Wu, who joined MSU in 2013, researches and analyzes national and global burden of foodborne disease, how improved nutrition can counteract the harmful effects of foodborne toxins and how cost-effective strategies can improve food safety in the United States and worldwide. She has been recognized by U.S. National Institutes of Health and the World Health Organization (WHO) for her research on the health impact of aflatoxins – fungi found in crops such as corn and peanuts.
"Felicia is very deserving of being recognized as a recipient of MSU's Beal Outstanding Faculty Award. She is an excellent scholar who has made significant contributions to her field of work," said AFRE Chair Titus Awokuse. "Her dedication to research and her willingness to provide strong leadership in serving her profession and the university is very impressive."
Wu, who teaches graduate classes in food safety, toxicology, and risk assessment, serves as an expert adviser to the Joint Food and Agriculture Organization (FAO)/WHO Expert Committee on Food Additives of the United Nations and is an area editor for three journals: Risk Analysis, World Mycotoxin Journal, and Archives of Environmental and Occupational Health.
She was part of the search committee for current MSU president Samuel L. Stanley and is currently on the search committee for the new university provost.
"Felicia is a dedicated faculty member that serves the university in multiple ways, which goes to the heart of the goal for the Beal Award," said FSHN Chair Nancy Turner. "She has a strong collaborative research program that integrates scientists from different disciplines to address food and health. She also serves the university through her many committee appointments, in addition to the service she provides within the department and college."
Wu said she is grateful to MSU and believes the Beal Award will help motivate her toward future successes.
"I'm thrilled and honored to receive this award," Wu said. "MSU has invested so much in me, and I don't want to let the university down. I think it certainly will serve as a motivator to do the best job that I can to really live up to the award."