International Year of Pulses 2016
The United Nations is encouraging everyone to include pulses in their diet as a primary source of protein and other essential nutrients.
April 7, 2016
What exactly is a pulse?
A pulse is a legume harvested for its dried seed. This includes dry bean (Phaseolus vulgaris L.), chickpeas (Cicer arietinum), dry peas (Pisum sativum L.), lentils (Lens culinaris), and cowpeas (Vigna unguiculata).
Why are they important?
Research suggests many positive benefits from pulses. Pulses contain high levels of protein, iron, potassium, zinc and fiber, as well as B vitamins. Research suggests that pulses may help decrease blood cholesterol levels, help control blood sugar levels, and help with digestion and regularity. Research also suggests that pulses may help in the prevention of certain cancers, because of their fiber content and their mineral and amino-acid content, folate in particular.
Pulses are being championed as part of a healthy diet and for leaving a light carbon and water ecological footprint. They have a positive impact on soil quality because they fix nitrogen in the soil. Nitrogen fixation may contribute to higher yields and/or reduced N fertilizer in subsequent crop rotations. Pulses produce greater amounts and different types of amino acids than non-legumes and the plant residues left after harvesting pulse crops have a different biochemical composition than other crop residues.
The diversity in soil composition that comes from a good pulse rotation helps crops to thrive and offers greater protection against disease-causing bacteria and fungi. It also costs less water to produce a pulse crop than to produce many other crops.
The American Pulse Association's "Pulse Health Initiative Strategic Plan" recommends additional research to (1) "quantifiably substantiate the role pulse crops can play in reducing obesity and providing increased health benefits; (2) "promote the development of new products or new functionality for pulse crops;" and (3) document the benefits of nitrogen fixation and water use in legumes.
PSM is actively involved in pulse research.
The Department of Plant, Soil, and Microbial Sciences dry bean breeding and genetics program is dedicated to "developing improved dry bean varieties in several commercial classes to serve the bean growers, bean seed producers, and the bean industry of Michigan."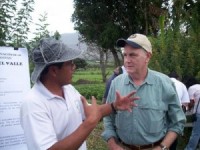 Dr. James Kelly, MSU Distinguished Professor, conducts dry bean research that has a state, national, and international impact. Dr. Kelly focuses on "the development of high yielding, disease and stress resistant cultivars with upright architecture, and improved canning quality in 10 commercial seed classes for production in Michigan." His research also addresses drought tolerance, white mold and other bean diseases, and reaches throughout the world in Michigan, the U.S., Africa, and South America. Dr. Kelly attended the Pan-African Grain Legume and 2016 World Cowpea Conference in late February.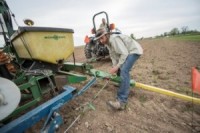 Dr. Martin Chilvers, plant pathologist and Assistant Professor in the Department of Plant, Soil and Microbial Sciences, conducts research on diseases in dry bean and other field crops. Dr. Chilvers has worked previously on chickpeas, lentils and peas at Washington State University. His current research seeks to identify key root rot pathogens and identify varieties with resistance in Michigan and internationally. He is conducting research in East Africa, with a focus on Uganda and Rwanda.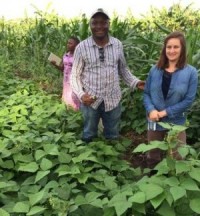 Dr. Karen Cichy, Adjunct USDA Assistant Professor, is conducting research on the genetic control and underlyingmechanism of cooking time in dry beans and identifying genomic regions and genes associated with iron and zinc levels in bean seeds. "Dr. Cichy's research is focused on the genetic characterization of seed traits related to consumer acceptance and nutritional and culinary quality of dry bean."
Two of Dr. Cichy's key research findings include identification of genomic regions associated with fast cooking time of beans and Identification of genes associated with genotypic variability for seed zinc concentration. These findings are relevant to IYP, because this knowledge can be used to breed bean varieties with superior nutritional quality and high consumer acceptability.
Sources
American Pulse Association. 2011.Pulse health initiative: Strategic plan, executive summary. http://www.pea-lentil.com/core/files/pealentil/uploads/files/PHI_StrategicPlan_ExecutiveSummary.pdf
Hanson, M.G., P. Zahradka, and C.G. Taylor. 2014. Lentil-based diets attenuate hypertension and large-artery remodeling Kelly, J. Dry bean breeding and genetics. http://bean.css.msu.edu/
http://iyp2016.org/events/event/5-panafrican-grain-legume-and-world-cowpea-conference
IYP. 2016. Pulses and sustainability. http://iyp2016.org/resources/documents/factsheets/22-factsheet-pulses-and-sustainability/file
Patterson, C.A., H. Maskus, and C. Dupasquier. 2009. Pulse crops for health. Cereal Foods World 54(3):108-112.