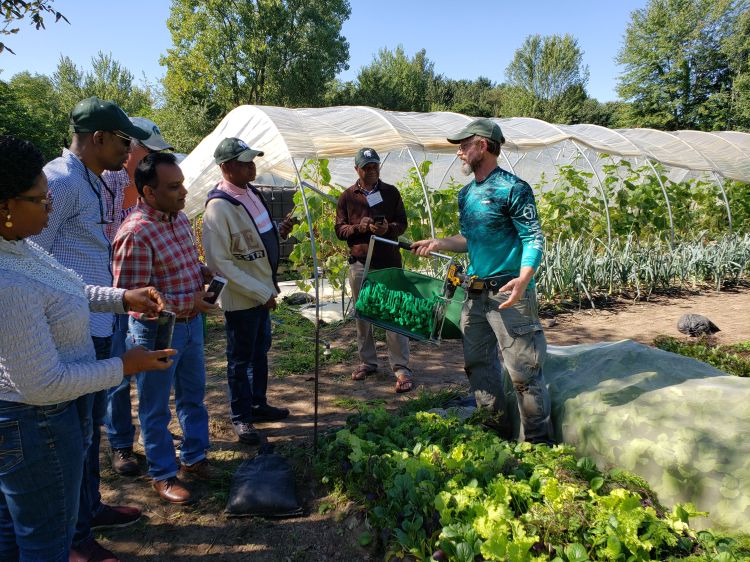 EAST LANSING, Mich. – A delegation of agriculture representatives from Nigeria recently participated in a two-week Michigan State University (MSU) course designed to provide a holistic view of how United States agriculture operates.
The "Cochran Fellowship Program - Nigeria Farm Management," organized by MSU Extension in partnership with the United States Department of Agriculture Foreign Agriculture Service (USDA-FAS), took place Aug. 25 through Sept. 6.
"The U.S. is the best globally in terms of agriculture, and we want to take what we've seen here and share it with our government," said Philip Ejikeme Ajomiwe, chairman and managing director of De-Philajoms Agro & Allied Industries in Nigeria. "This program is important, and I will take the information back home to share with my community, my state and my country of Nigeria. What we have seen from MSU is a model in the U.S. for what we would like to see from our own research institutions."
The fellowship program is one of many international outreach programs designed to "support the missions of MSU and MSU Extension to disseminate research-based information and best practices to create a stronger global community," according to Anne Baker, MSU Extension learning and talent development specialist, and coordinator of the fellowship program.
"Programs like the Cochran Fellowship Program are mutually beneficial in that they allow MSU to share its expertise and resources with nations that are striving to grow their own agricultural economies, while also allowing the university to build connections globally to open up more avenues for research and impact," said Ron Bates, Ph.D., director of Agriculture and Agribusiness programming for MSU Extension.
Charles Akhigbe, director of Atlantique Marine and Engineering Services, was impressed with how far-reaching MSU Extension is within Michigan's farming institutions.
"What we have seen from MSU is a deliberate attempt to work with all aspects of agriculture with the similar goal of building the global agricultural community," he said. "It's great to see the integration of the university system with all of the community in all walks of life. We are learning that a university is not supposed to be isolated. MSU is deeply integrated with its community and farmers and small businesses."
Agriculture is a major economic force in Nigeria, accounting for two-thirds of the nation's workforce. Growth has been limited, however, by an outdated land tenure system and very low-level irrigation development. Some core issues undermining production include reliance on rainfall, smallholder land holdings, low productivity due to poor planting material, low fertilizer application and a lack of outreach and education, said MSU Extension Outreach Specialist Sunil Madan.
"Our goal is to further build upon relationships in Nigeria, creating connections for future collaborations and research, and allowing more Extension staff to have experiences which will lead to more international collaborations and the building of their intercultural competency," Baker said.
"(This program) further strengthens MSU's connections in Nigeria. Nigeria's economy is very dependent upon agriculture and the hope is these fellows will take home new ideas, methods and renewed inspiration on how to develop Nigerian agriculture in the future."
The delegation featured a mix of professionals from private Nigerian companies and government officials.