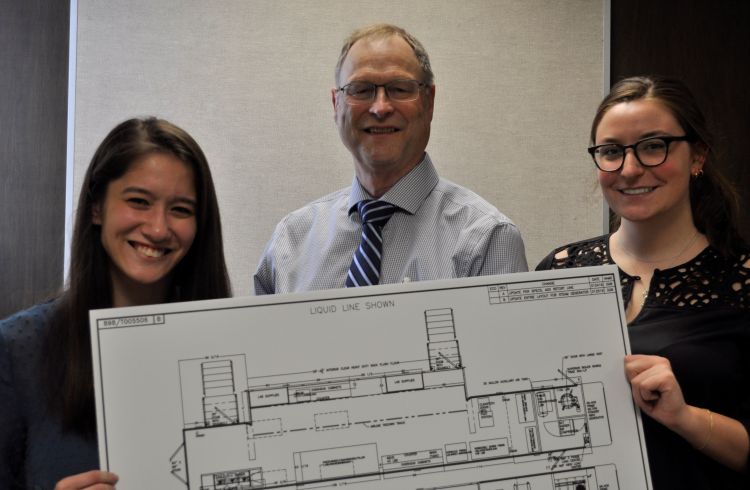 To launch the Institute of Agricultural Technology (IAT) food processing program, Michigan State University (MSU) faculty and leaders needed to develop the curriculum with industry partners, as well as figure out a way to provide real world, food processing experiences to students in different locations across the state.
Starting in fall 2019, the IAT Food Processing, Technology and Safety certificate program will be available on campus at MSU and at IAT partner institutions: Kellogg Community College in Battle Creek (pending final approvals), Muskegon Community College in Muskegon, and Northwestern Michigan College in Traverse City. The first of the three mobile food processing labs will also be completed in fall.
Once built, the food processing labs will travel to the participating IAT partner community colleges to help support the development of skilled employees in the food processing industry across Michigan.
Student design support
As the concept for the mobile labs started to take shape, two undergraduate student interns were brought on to help with their design. Biosystems engineering student Katie Church and food science student Lauren Kitada created concepts for mobile food processing labs that will demonstrate processing of foods to a liquid state, canning and cereal milling. Both Church and Kitada graduated from MSU in May 2019.
"Together, they worked through the needs and challenges to accommodate the equipment, and they even helped identify the equipment and got quotes from possible vendors," said Nancy Turner, Ph.D., chair of the Department of Food Science and Human Nutrition (FSHN) and part of the MSU food processing lab planning committee.
Church and Kitada's involvement in the mobile food lab project helped them develop and sharpen skills they can use in their careers, as well as on their resumes.
"I plan on working with food safety and quality assurance, so it was great to get the chance to see how much work is needed to ensure a food processing facility meets food safety regulations," said Kitada.
The project management and communications experience was valuable to Church, as was working with teams encompassing a variety of focus areas and skill sets.
"I learned a lot about food processing equipment, which will be helpful in my future as a potential food processing engineer," Church said.
A mobile education
Integral to the mobile food processing lab planning were department chairs Darrell Donahue, Ph.D., Department of Biosystems and Agricultural Engineering, and Turner with FSHN; as well as Brian Graff, recently retired from MSU AgBioResearch; Randy Showerman, IAT director; and Jeff Swada, FSHN professor and academic advisor.
The designs for the mobile labs needed to show students in the IAT food processing program how equipment works including different processing conditions and packaging methods while still ensuring the appropriate sanitary conditions.
"Ideally, the mobile labs will give students an idea of what it is like to work in a food processing facility," Church said. "Finding equipment small enough to fit in the mobile labs and getting the required elements to run the equipment like water, steam and electricity were challenging."
Kitada added, "We needed to find equipment that would fit inside of the mobile units, and some of the equipment needed to have custom modifications for our educational purposes."
In addition to the size of equipment, Kitada and Church's plans needed to include walls and flooring that were mold-resistant and could withstand regular washing.
For example, the pasteurizing lab plans required screens so that students could safely see the heating process used to kill bacteria and pathogens in liquids and food.
Next steps
Kitada and Church presented their final mobile food processing lab design concepts to the MSU Fruit and Vegetable Mobile Lab Committee and Michigan Department of Agriculture and Rural Development Director Gary McDowell in April 2019.
The next steps involve ordering the equipment, securing it on the trailer and then building out each processing lab. The first mobile lab for processing liquids is expected to be completed in September.
The State of Michigan helped fund the MSU Fruit and Vegetable Lab renovations include an existing on-campus facility, the mobile food processing lab equipment and first-year operations for the IAT Food Processing, Technology and Safety certificate program. The lab facilities and IAT certificate program will expand specialized training that assists Michigan employers in hiring skilled food processing employees.
Related Articles