John Biernbaum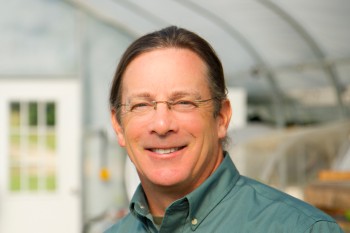 Department of Horticulture
Professor Emeritus
Area of Expertise:
Organic crop production; production and use of compost for fertility, transplant media and water extracts (tea) for managing soil and plant health.
---
Degree:
PhD
---
Quick links: Education Teaching Publications Extension Research
Joined Department
August 1, 1985
Education
Ph.D., Horticultural Science, Michigan State University, 1985
M.S., Horticultural Science, The Pennsylvania State University, 1981
B.S., Horticultural Science, North Carolina State University, 1979
Honors and Awards

Michigan State University "Be Spartan Green" 2015 Outstanding Faculty Award
Michigan Organic Food and Farming Alliance (MOFFA) 2004 Public Service Award
Honorary State Future Farmers of America Degree, 2003
Member of Floriculture Team that received the 2002 John Hannah Award for Program Excellence in Extension
Bedding Plants International 1998 Futura Award for Outstanding Teaching and Research
College of Agri. and Nat. Res. Student Senate Outstanding Academic Advisor 1997
Ohio Florists' Assoc. 1994 and 1996 Alex Laurie Award for Outstanding Research Paper
Professional Plant Growers Association National Publications Award 1992 and 1993
MSU Senior Student Council Outstanding Teaching Faculty Award for 1992
Michigan Floral Association, National Service Award for 1989
Publications
Waldman, Kurt, David Conner, John Biernbaum, Michael Hamm and Adam Montri. 2012. Determinants of Hoophouse Profitability: A Case Study of 12 Novice Michigan Farmers. HortTechnology 22(2) 215-223.
Fisher, P.R., W.R. Argo, and J.A. Biernbaum. 2014. Validation of a fertilizer potential acidity model to predict the effects of water soluble fertilizer on substrate-pH. HortScience 49(8):1061-1066.
Biernbaum, J. 2011. Four Season Farming and Learning. In Fields of Learning: The student farm movement in North America. Ed Laura Sayre and Sean Clark. University Press of KY, 378 pgs.
Nair, A., M. Ngouajio, and J. A. Biernbaum. 2011. Alfalfa-based organic amendment in peat-compost growing medium for organic tomato transplant production. HortScience 46(2):253-259.
Montri, A. and J. Biernbaum. 2009. Management of the soil environment in high tunnels. HortTechnology 19:34-36.
Biernbaum, J.A., Thorp, L. and Ngouajio, M. 2006. Development of a Year-round Student Organic Farm and Organic Farming Curriculum at Michigan State University. HortTechnology 16(3):20-24.
Kelley, Kathleen M., Author Cameron, John A. Biernbaum, and Kenneth L. Poff. 2003. Effect of storage temperature on the quality of edible flowers. Postharvest Biology and Technology 27:341-344.
Kelley, Kathleen M., Bridget K. Behe, John A. Biernbaum, and Kenneth L. Poff. 2002. Combinations of Colors and Species of Containerized Edible Flowers: Effect on Consumer Preferences. HortScience 37(1):218-221.
Affiliations
Teaching
During his time at MSU, Dr. Biernbaum taught an average of two courses per semester including 20 different courses and over 50 independent studies over 30 years.
Research
During his time at MSU, Dr. Biernbaum's most recently focused on production and use of compost for fertility, transplant media and water extracts (tea) for managing soil and plant health.
Extension & Outreach
Dr. Biernbaum's most recent focus was on providing educational programs and technical assistance for small-scale organic farmers through the MSU Student Organic Farm and MSU Extension. Key topic areas included season extension/hoophouses, compost production, organic transplants, intensive vegetable production including urban agriculture, and organic soil management.
Publications & Presentations for Download
Important: These materials are intended for use by students, educators, farmers and gardeners. They are not intended for publication or distribution without permission of the author.
Closing the MSU Food Cycle Loop - Bailey GREENhouse and Urban Farm
MSU Student Organic Farm at the Horticulture Teaching and Research Center
Organic Farming
Themophillic or "Hot" Compost
Worm or "Vermi" composting
Recommendations for Worm Composting for small scale intensive farming and gardening based on five years of research (2010-2014) with vermicomposting kitchen preparation residue in a passive solar greenhouse or high tunnel.
Hoophouses & High Tunnels
Organic Transplant Production
Vegetables and Season Extension including Cold Cellars
Permaculture and Edible Forest Gardening
Urban Agriculture
Upper Peninsula Research and Extension Center (UPREC)
Launching a new teaching and incubator farm at the UPREC North Farm has been an important new effort for 2014. Hiring a farm manager and assistant farm manager, developing a starting farm plan, and ordering and construction a hoophouse were completed by June 1. The crew at the farm has made great progress since then.
ChathamNewDayDawningFutures2013Vol31-6pgs.pdf
Program Areas
Floriculture
Greenhouse production of organic vegetable transplants, edible flowers and culinary herbs.
Organic and Sustainable Agriculture
Organic transplant production, winter production and harvesting of baby salad greens, year-round organic vegetable production. Production and use of compost for fertility, transplant media and water extracts (tea) for managing soil and plant health. Effect of irrigation method and water quality on nutrient management in peat-based media; fertilization methods for peat-based media.