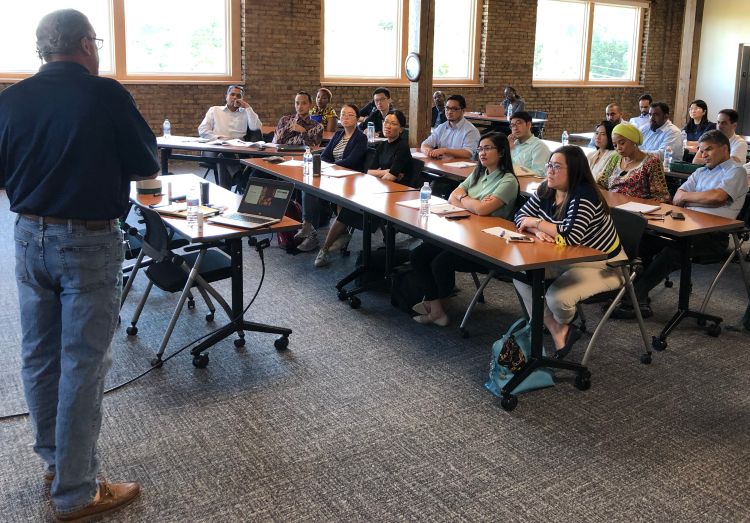 EAST LANSING, Mich. – Food safety professionals from China, Central African Republic, Hong Kong, Indonesia, Malaysia, Nigeria, Philippines, Saudi Arabia, Thailand and Uganda, recently gathered at Michigan State University (MSU) for the annual International Short Course in Food Safety, hosted by several departments within the College of Agriculture and Natural Resources (CANR).
The program, which took place July 28 - Aug. 3, focused on food safety policy development, food safety laws, risk analysis and program implementation.
"Food safety is a global issue and education of everyone is important to ensure safer food supply worldwide," said Karim Maredia, Ph.D., senior global scholar and CANR director of international programs.
"This international short course is a comprehensive program and provides Michigan State University with an opportunity to share the U.S. experiences on food safety with the global community," said Nanda Joshi, Ph.D., associate professor in MSU's Animal Science Department and course manager.
Michigan State University partners with various public and private sector organizations in offering this course. The course program included visits to two companies – Neogen Corporation in Lansing and the Mead Johnson Nutrition in Zeeland, an American division of British company Reckitt Benckiser.
During the tour of Neogen Corporation, representatives Jason Lilly and Chuck Bird spoke about the company's diagnostic test kits and products used to detect dangerous substances in food. Founded by MSU in 1982 as an investment project, Neogen has grown into an enterprise that employees more than 1,700 worldwide.
"The early beginnings of Neogen Corporation came from research out of MSU, and we still maintain close relationships by having about two dozen touchpoints with the university," said Lilly, Vice President of International Business for Neogen. "While we have grown into a global leader in food safety, we have maintained a strong connection to MSU. There is so much we can do with these public/private partnerships."
CANR Dean Ron Hendrick said the course serves as an opportunity to host visitors that have never been on the MSU campus.
"CANR is proud to partner with Neogen to welcome this cohort of international visitors each year," Hendrick said. "The program provides an excellent opportunity to demonstrate to the world MSU's status as a leader in food safety education and outreach, as well as a chance for the university to partner with local companies like Neogen to help spread food safety awareness to an international audience."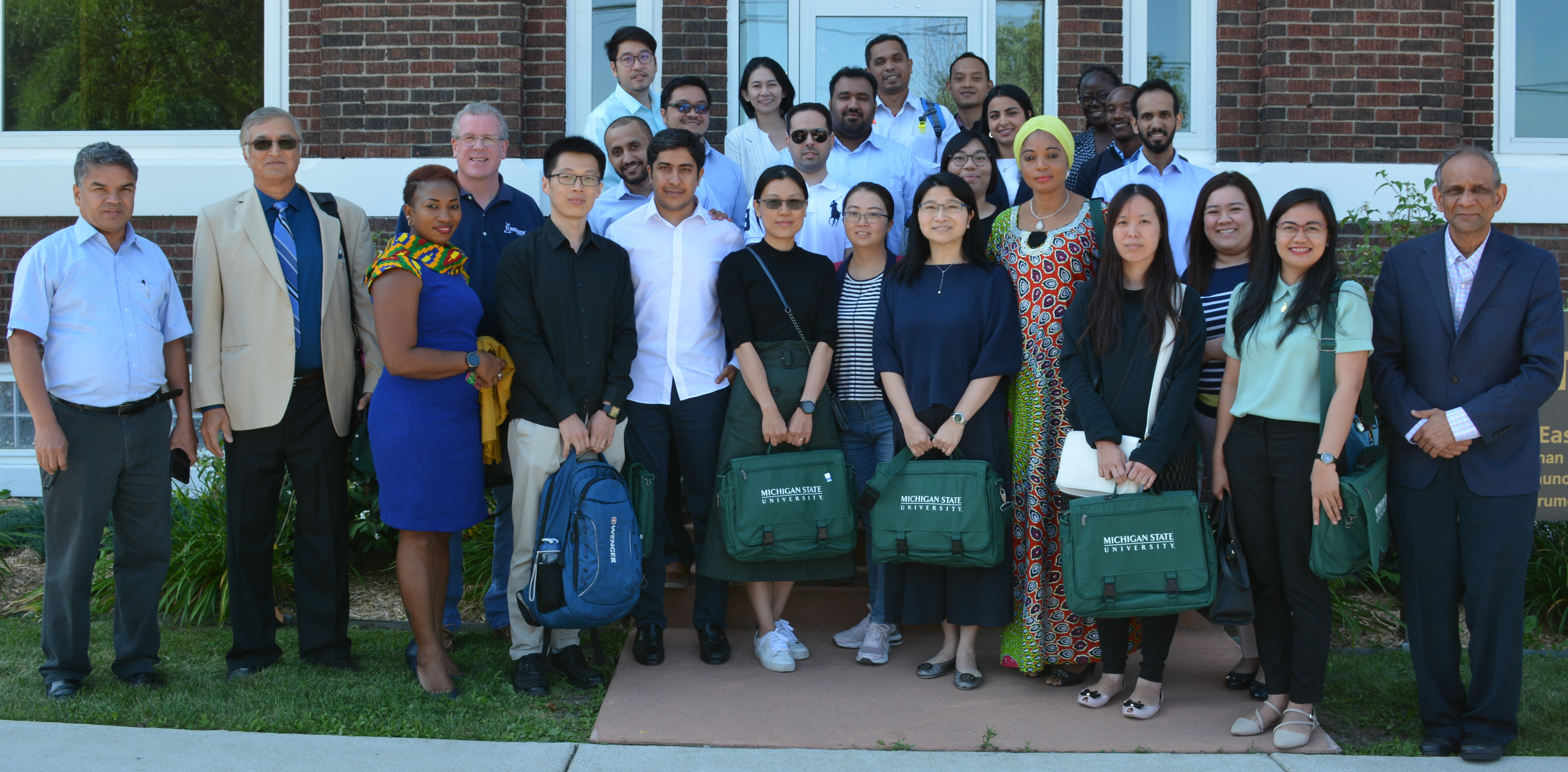 Lilly said a key goal of educating international students is to show them the latest advancements they can use in their own countries. During the visit, Bird highlighted the company's newest technological advancements, and also provided instruction on best practices for food safety and protection.
"MSU hosts a lot of guests from developing countries during this seminar – many from places that have a growing middle class," Lilly said. "One of the first signs of a demographic shift in the population is when people begin to shift diets to more protein based products, thereby creating a demand for not just the supply of food but to the supply of safe quality food. These regions are the ones that benefit the most from Neogen's solutions and education and training that MSU can provide.
"MSU has been a long-time leader in food safety, and by partnering with the university to educate these professionals we can help them realize there are more ways to perform food testing and that will help improve global food safety overall."
Over the past 20 years, through this course, MSU has hosted 579 policy makers, regulators, academicians, scientists and other relevant stakeholders from more than 75 countries.
Maredia and Lilly both emphasized the importance of MSU's public/private partnerships and cited the International Food Safety course, which started in 1999, as an example of how these partnerships can enhance educational opportunities.
"Through this program, we are building a global network of food safety professionals for continued exchanges of knowledge, information and experiences," Maredia said.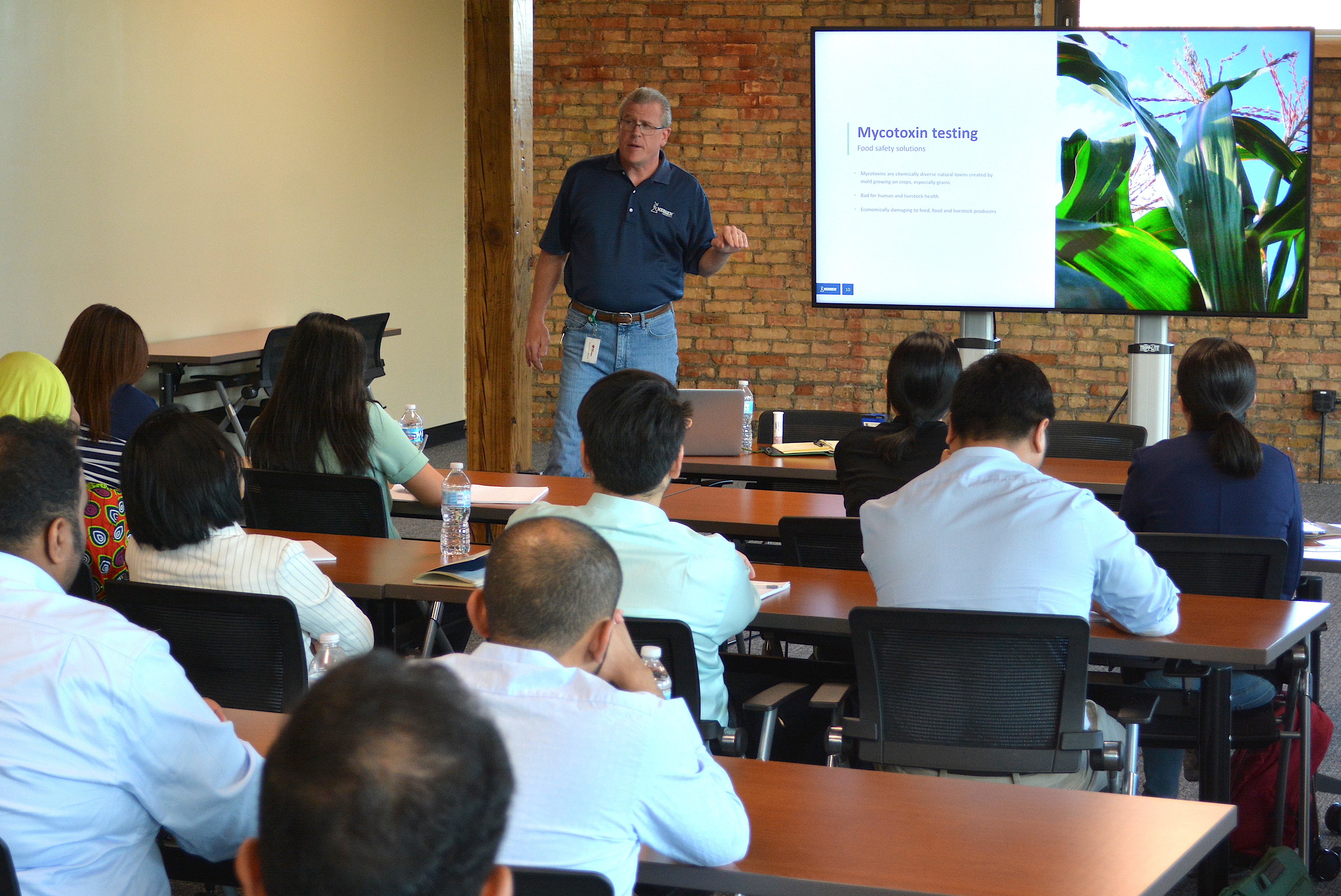 The course culminated in presentations by the international participants on food safety policy from their respective countries.
"The expertise from Michigan State and the outside interaction with people from other countries and corporations has been amazing," said Amy Chu, policy manager with Mead Johnson Nutrition in Hong Kong. "We learned the latest developments in regulation in the U.S. and other countries as well as trends in packaging that we don't have in-depth knowledge of at home, so I can bring that back to the group in Hong Kong."
Attendees, including Ali Khalid Alghamdi from Saudi Arabia and Akhmad Fahmi Hikmatiyar from Indonesia, agreed that learning about food safety policy in peer countries and building a network of international colleagues was a highlight of their trips.
"It's great to network with friends from other countries and those relationships will remain very useful to me," Hikmatiyar said. "Those relationships are not just important for this program, but important when I go back to my country. I now have this network of friends from other countries, and I can contact them whenever I want. I hope more of my officemates can have the opportunity to come join me in experiencing this program in the future."
The annual course is organized by CANR's World Technology Access Program (WorldTAP) in collaboration with the MSU Department of Animal Science, the MSU Department of Entomology, the Institute for Food Laws and Regulations, the MSU Department of Food Science & Human Nutrition, the Michigan Department of Agriculture and Rural Development, the International Food Protection Training Institute, the National Sanitary Foundation, and private companies such as the Mead Johnson Nutrition and Neogen Corporation.